Paying for long-term care is an intimidating concept for many veterans who are beyond their working years. Around 7.3% of adults in the United States were military veterans in 2017. They tend to have a greater need for assisted living and healthcare services due to the strenuous and stressful nature of their jobs. A greater need also means that they usually paid higher insurance rates compared to those with non-military careers.
A survey conducted in 2018 found that only 7% of veterans who responded felt that their overall health was excellent. While some were still living independently, many cannot or will not be able to as they age. Despite their service, many do not have the financial resources to cover the full cost of an assisted living facility.
Understanding Aid & Attendance Benefits
If you are eligible for a pension, then you may qualify for additional payments through Aid & Attendance. This benefit is intended for veterans or spouses of veterans who require the aid and attendance of another person regularly.
Depending on your status, if you are eligible, you can receive additional funds with your monthly VA pension. As of last year, the payment for a single veteran is up to $1,881 per month. A married veteran can receive as much as $2,230 per month while a surviving spouse is entitled to up to $1,209 per month.
Aid & Attendance benefits are not considered taxable income. A Long Term Assurance financial expert can help you learn more about benefit amounts and tax planning when receiving VA benefits.
Who is Eligible for Aid & Attendance Benefits?
A wartime veteran with 90 days of active duty and at least one day beginning or ending during a time of war may be eligible. A surviving spouse of a veteran who meets the requirements may also be eligible, as long as the marriage ended due to the spouse's death. One of the following criteria must also apply:
You need assistance performing daily living activities like feeding, toileting, dressing, or using prosthetic devices.
You are bedridden and cannot move independently when not receiving treatment.
You are currently a resident in a nursing home due to physical or mental incapacity.
Your corrected visual acuity is 5/200 or less in both eyes.
You have concentric contraction of the visual field to 5 degrees or less.
You cannot receive Aid & Attendance benefits if you already receive Housebound benefits.
Income requirements may also apply to receive this additional payment. Applicants and their spouse's combined income must be lower than their pension eligibility amount. All medical expenses that are over 5% of the Maximum Annual Pension Rate (MAPR) can be deducted when calculating total income.
Applying for Veteran's Aid & Attendance Benefits
If you meet the requirements listed above, you can complete a VA Form 21-2680 "Examination for Housebound or Permanent Need for Regular Aid and Attendance." You should also gather copies of evidence that prove you need the benefit.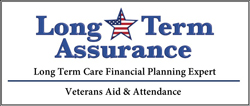 The form can be mailed or faxed to your state's Pension Management Center. Veterans residing in Arizona should contact the St. Paul VA Pension Management Center or get in touch with Long Term Assurance for more information.
When Will I Receive Approval for Aid & Attendance Payments?
It is impossible to know exactly when the VA will receive your application and provide a response. The official website states that "We process claims in the order we receive them." That often means about six to eight months. However, some requests are completed as soon as six weeks.
The wait time will depend on several factors, including the VA's current workload and how detailed your documentation is when you submit it. The good news is that benefits will be retroactively applied if it takes a while to receive approval.
Are You Missing Your Veterans Benefits?
Even though many veterans are eligible for Aid & Attendance, only about 5% of the funds are applied for. Many are unaware that they can receive additional payments to help cover the cost of assisted living and medical needs.
The cost of health services continues to rise. More veterans need long-term care. Due in part from the wars in Vietnam, Iraq, and Afghanistan, VA spending on disability and pension pay rose from $33.3 billion in 2002 to $64.8 billion in 2013.
As a veteran or spouse of a veteran, you may be eligible for funds that can cover the cost of vital services and improve your quality of life. Navigating the system can be confusing and may deter some individuals from pursuing their well-earned military benefits. Contact Long Term Assurance to discuss your financial needs and learn more about utilizing your veterans benefits to cover assisted living care costs.